According to the greatest news of Hungarian winemakers in 2015, has been the success of the 2011 vintage Görögszó wine at the Vinalies Internationales, in Paris. We have interviewed Tamas Duzsi Jr about this award:
What does this award mean?
This is basically a recognition from the oldest and most well-recognised international wine competition from the International Organisation of Vine and Wine. The 2015 event was the 21st competition, at which stage no Hungarian wine has ever win this award in any of the 7 categories: white, rose, sweet, liquor wine, sparkling, fortified. This was the main reason why it was a "bit hit" for us, as this has drawn attention not only for our wine, but for Hungarian wines in general too.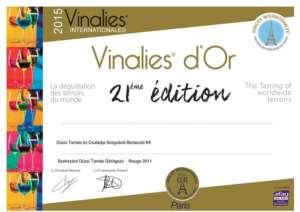 The wine itself is a selection from our Görögszó Vineyard, which is a very special area in the Szekszard wine region.
What makes this vineyard so special? What are it's advantages?
Görögszó area is located at the top of the hill, with the vineyard is south-east facing. This way, the morning sun dries up the soil fairly early in the day. It is also a very windy area, that eliminates the humidity among the vines, so any risk of fungal diseases is also minimal. These factors facilitate organic growing methods. The soil itself is composed of mainly loess, while the vines are also very old; 40 years or older. We can count on a fairly stable production rate from this area every year.
How about the wine itself, what's worth knowing about this wine, what grapes is it made of?
The Görögszó wine is 85% cabernet franc and 15% cabernet sauvignon blend. We aim for this proportion every year. Cabernet franc grape has a very high prestige in our wine region, as it seem to work very well on Hungarian climate and soil, and it makes excellent quality wines year on year.
This wine is matured in 100% Hungarian oak barrique barrels for at least one year. We quite like to blend in those wonderful oaky notes into our wines at the family winery.
How many bottles have been produced from this wine? Where is it possible to purchase from?
4,000 bottles have been made from this wine. It's available from our own wine shops that are located in Szekszárd & Budapest, as well as at our major partners, such as Bortársaság in Hungary. It is also available abroad via our international partners, for example at Hungarian Wine House  in the UK.